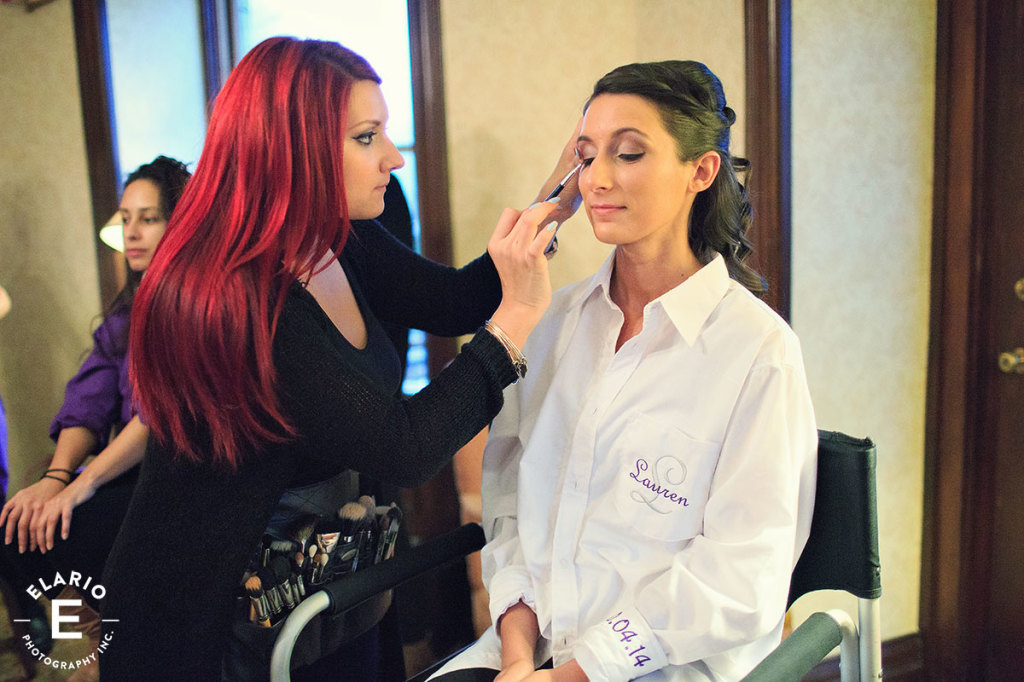 When planning your wedding (the most special day of your life!) it is said that the top three most valuable investments a bride can make is: 1. A photographer 2. A professional hair team and 3. A professional makeup team. Being that your photos are a lasting memory after the day is done, we believe that looking and feeling like the most beautiful version of you is essential to creating these happy memories & photos.
Hiring a professional hair and makeup team can assure you and your girls that your hair will look great from every angle, your makeup will last all night long, and your best features accentuated. My team and I provide a luxury service to our brides near and far. We create a relaxing, memorable morning for our brides and their friends and family.
Hair & Makeup Pricing With…
Master Hair Artist
Annaliese
Bridal Hair Trial Consultation $90
Mother/Daughter Hair Trial $150
Day of Bridal Hair $200
Bridesmaids Hair & Others $100
Bridal Hair Artist
Fran
Bridal Hair Trial Consultation $75
Day of Bridal Hair $150
Bridesmaids Hair & Others $90
Bridal Makeup Artists
Marriessa & Kristie
Bridal Makeup Trial Consultation $75 (+$10 for airbrush)
Day of Bridal Makeup $150 (+$50 for airbrush)
Bridesmaids Makeup & Others $90 (+$10 for airbrush)
Travel Fee
$1 per mile to and from the lead stylists location. Please ask us for your personalized quote based on Mapquest.
*{When booking services A la Carte, there is a $500 minimum for hair services, and a $500 minimum for makeup services in order for us to travel to your location.}*
*You can book just hair, or just makeup services with someone from our team, as long as the minimum is met.*
*No packages offered at this time*
Included in all Services:
-15 minute phone consultation with your lead stylist before booking to make sure you are a good fit for one another.
• 1-3 styles at your trial during an hour and a half appointment so you get the most out of your time with us. This is a perfect opportunity to plan your engagement pictures around your trial or a special date night!
• A personalized morning itinerary for your group.
• On the wedding day we leave you & your girls with our Signature Touch Up Kit which includes: a bottle of hairspray, bobby pins, your personal touch up lipstick, and touch up lip gloss for your girls to share.
• We put everyone's lip color on last and do final touch-ups on everyone's hair before we leave! We make sure our girls look flawless before we walk out the door!!
• Lashes included with all makeup services.
• If you are within 15 miles of the stylists studio, travel is included. *(Anything over the 15 miles will require a travel fee)*
Additional Add-Ons:
Add clip in extensions {provided by client} day of $20
Add clip in extensions {rented from Fran} – Contact Fran for pricing
Short Hair Blowout Only $65 & up
Flower girl $45 & up
False eyelash application only $25
Bridal Airbrush Makeup Upgrade (with Kristie or Marriessa). $50
Bridesmaids Airbrush Makeup Upgrade (with Kristie or Marriessa). $10
"We pride ourselves on our continuous education and class certifications. We strive to be up to date with all of the newest trends and styles. Our mission is to create a beautiful, unique work of art for each one of our brides through formal hair styling & makeup application. Our goal is to ensure that our brides never feel anything short of perfection once we are done beautifying them. Being pampered in your own home or space on the most important day of your life will never be so calm, laid back, organized and memorable when you choose our team for your big day."
~Annaliese Petrone